Customer Case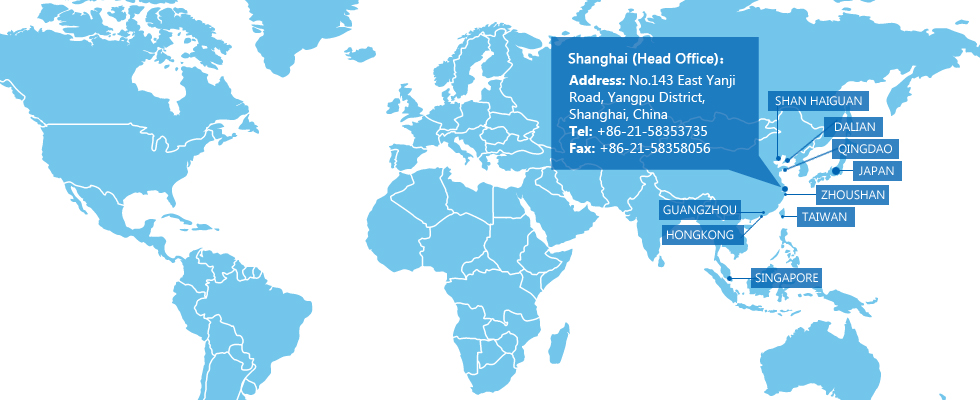 HONG KONG (CHINA):
Fleet Management Limited.
Fesco Wallem Shipmanagement Ltd.
ID Wallem Shipmanagement Limited.
Hong Kong Ming Wah Shipping Co.,Ltd.
Pacific Basin Shipping (HK) Limited. 
INDIA:
The Shipping Corporation of India Ltd.
JAPAN:
SANTOKU SENPAKU CO.,LTD.
PEGASUS MARITIME CO.,LTD.
KOBE SHIPMANNAGEMENT COMPANY LTD.
Singapore:
Pacific international lines (pte) ltd.
Thome Shipmanagement PTE Ltd.
APL Co. Pte Ltd.
M.T.M.Shipmanagement PTE.Ltd.
Executive Shipmanagement Pte Ltd.
Raffles Shipmanagement Services Pte Ltd.
Raffles Technical Services Pte Ltd.
Russia:
FESCO,Kamchatka Lines.
URTF、Kamchatka Lines
Regal Shipping Lines .
TAIWAN (CHINA):
Wisdom Marine Lines S.A.
Shin Wei Navigation Co.,Ltd.
Wan Hai Lines Ltd.
Formosa Plastics Marine Corp.
Yang MingMarineTransport Corp.
EvergreenMarine Corp.(Taiwan) Ltd.
Ukraine:
Kaalbye Shipping
Staff Shipmanagement Shipping Company .
CHINA:
China Ocean Shipping(Group) Company.、
Shanghai Ocean Shipping Company Ltd.
Qingdao Ocean Shipping Co.,Ltd.
Dalian Ocean Shipping Company.
Cosco Bulk Carrier Co.,Ltd.
Cosco(H.K) shipping Co.,Ltd.
Cosco Shipping Co.,Ltd.
Cosco Shipping Co.,Ltd.
China Shipping Tanker Company Limited.
China Shipping Bulk Carrier Co.,Ltd.
Sinotrans&CSC Holdings Co.,Ltd